Luigi started off as Mario's twin – in almost every characteristic they were identical. In the original Mario Bros. title, and in the following Super Mario Bros. NES game, the only perceivable difference between the two was their clothing color. This was obviously due to graphical limitations of the time.

We all remember Luigi as the taller, greener brother who could achieve some serious air time in Super Mario Bros. 2 (the 1988 Doki Doki Panic version). Many don't realize that the real Super Mario Bros. 2 (the 1986 Lost Levels version) was where Luigi originally began to differentiate himself from Mario with high jumps and long hang time.

The American Super Mario Bros. 2 is often seen as the black sheep of the series, not unlike Zelda II: The Adventure of Link. They are also similar because, despite their black sheep status, they introduced key elements that would remain in each series. For Zelda II it was the magic meter and Dark Link. For SMB2, it was the character designs of the main heroes. Luigi and Princess Peach have changed very little since the game debuted. Luigi's animation and design was the first step toward his current cowardly persona. His kicking legs and high pitched voice makes him less heroic and less appreciated than his older brother. Games starring Luigi, such as Luigi's Mansion, make him out to be Nintendo's most abused character. Fans have taken note of this though. We do what we can to give Luigi back his balls.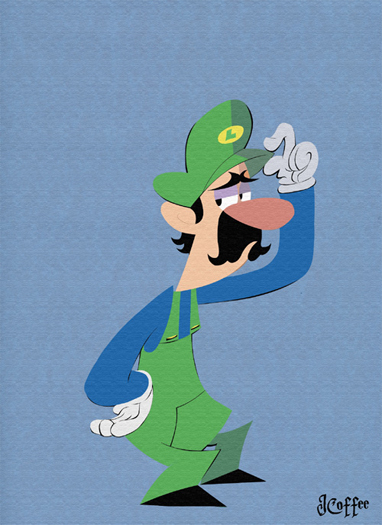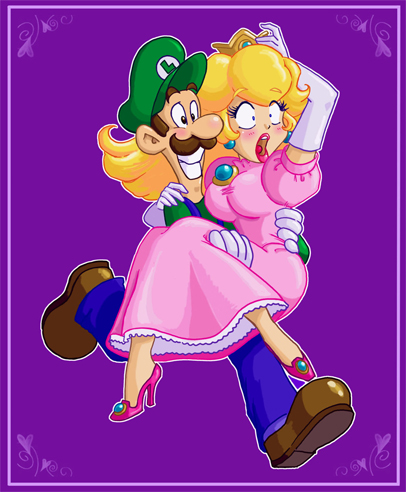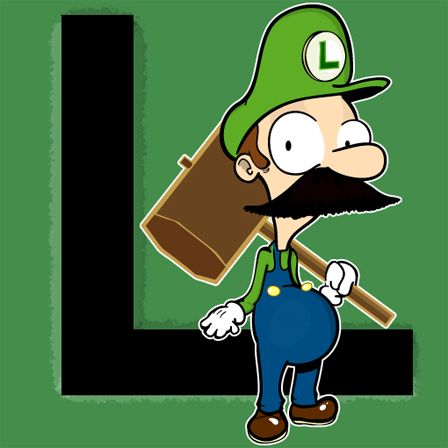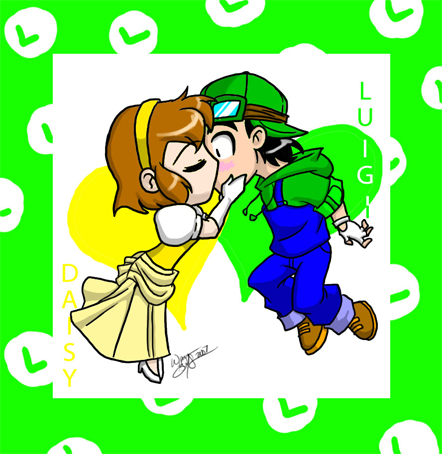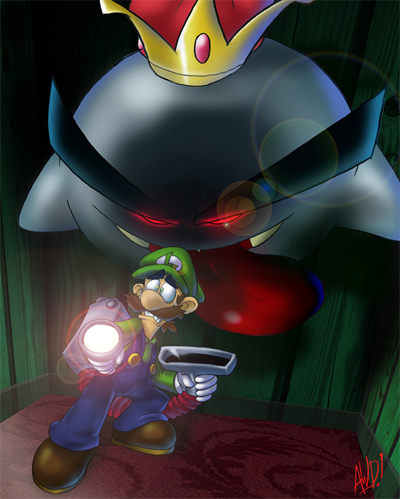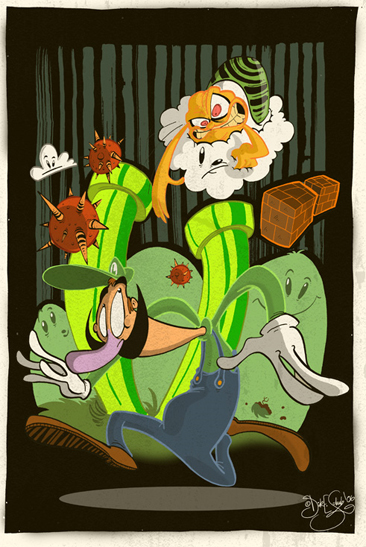 By Dirk Erik Schulz , a.k.a. Themrock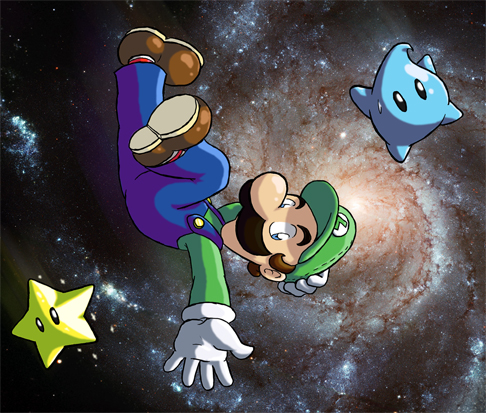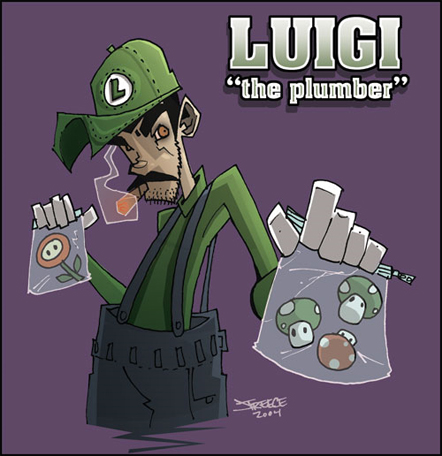 Gamefanart has joined Technorati, see you there!
Technorati Profile
It's not fanart. But does it matter? It's from The Behemoth! That young yet verile independent console game developer that brought you Alien Hominid. Not too much longer and we'll be playing THIS.

Castle Crashers has been in development for a while now, and looks amazing. That's because it has an extremely talented team, one of which is Dan Paladin, the main artist and the art director of this game (and Alien Hominid).

The Behemoth decided to record Paladin's work on this project, and have released a few snippets of that process here. This is a wonderful peek inside how he draws, including how fast he draws. Yes, it's sped up by 600%, but still, for a 5 min video, thats like 45 minutes of work to create a quality chunk of level. Put those numbers into an average 5 day work week (and lets be honest, artists work way more than that) and that's a pretty darn fast speed to pump out levels!


Marsh Land Construction from The Behemoth on Vimeo.


Castle Crashers – World Map from The Behemoth on Vimeo.
Ice Climber seems like a forgotten Nintendo franchise. Some wouldn't even call them a franchise. They have many more cameo appearances than they do actual games. The two climbers, Popo and Nana, actually predate the Super Mario Bros. debut by several months (unless you include the original Mario Bros. arcade game), but never came close to reaching Mario's status.

Thus, few know the unforgettable journey of those two ice climbers, who scaled 32 platforms of a mountain to retrieve the village vegetables from a giant bird. With that said, it's strange that the final enemy is sometimes a polar bear with sunglasses and pink shorts.

Another interesting note: this game originally had seals as an enemy, but this was later changed to yetis. Bashing seals was seen as some sort of cruelty to animals. I suppose they preferred to see children slaughter the more human-like yeti and anthropomorphic bipedal bear.

With the inclusion of these two tiny aplinists in the highly praised Super Smash Bros. series, there may be hope in seeing a new Ice Climber game. The new Super Smash Bros. Brawl has been hailed as one of the best Nintendo games ever, let alone just on the Wii. We are still experiencing a spike in 2d games, as well as the recent throwback to earlier Nintendo titles on the DS. It may well be possible we will see the Ice Climbers again in the near future. Or maybe not. So as usual, here's some Ice Climber fanart to numb the pain.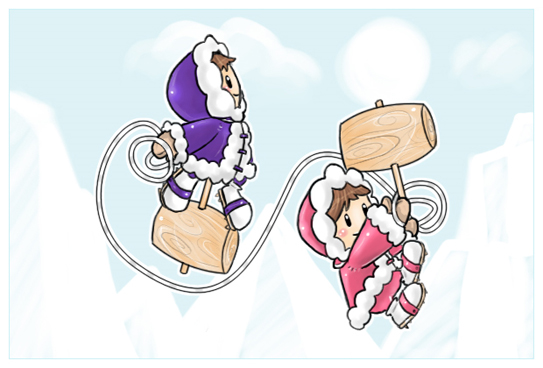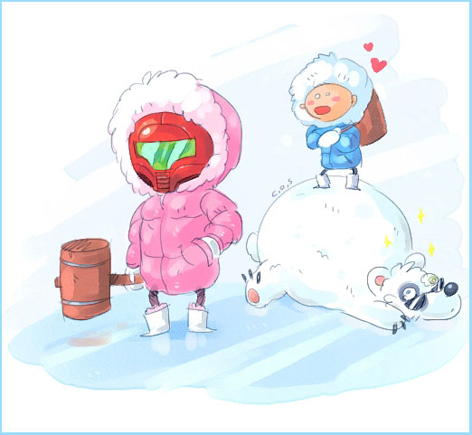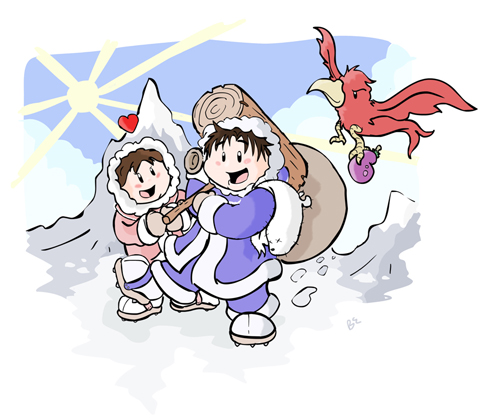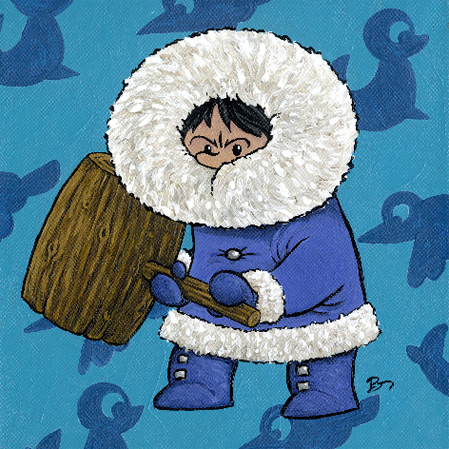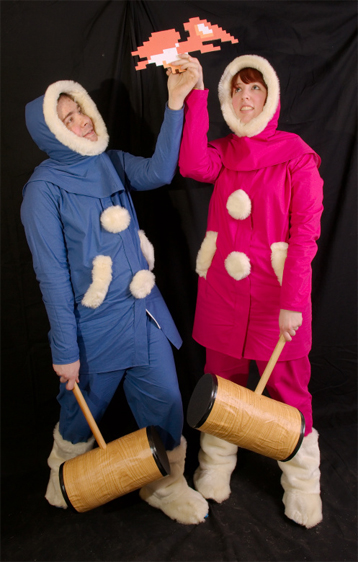 Popo: vananovion
Nana: Brothershinto
Picture: Kiwi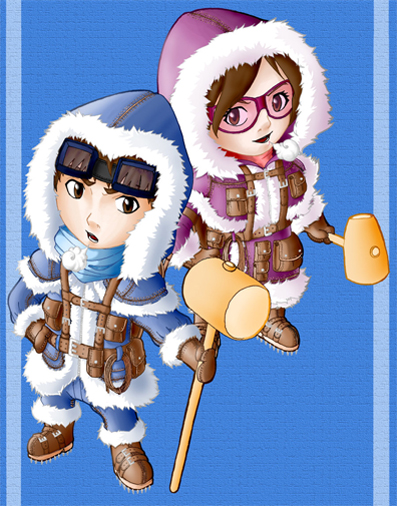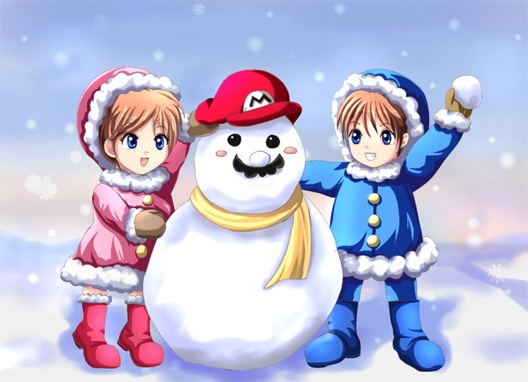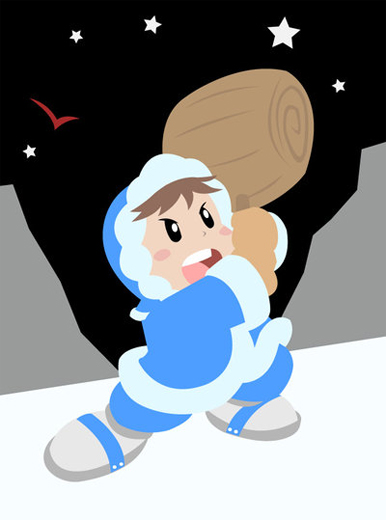 Originally released in 1993, StarFox was a relative latecomer in the list of Nintendo's most popular franchises. This did not keep Fox McCloud from being one of the more bad ass Nintendo characters, almost as bad ass as Samus. I guess only a few rounds of SSBB can solve that one!

Fox lead the Star Fox team, which included one infamously obnoxious toad Slippy, and eventually a young vixen, ill-fittingly named Krystal. Maybe because she first appeared in StarFox Adventures, which was originally a non StarFox game called Dinosaur Planet. That couldn't have stopped them from giving her a more ironic name, congruent with the rest of the characters.

Starfox sported the Super FX chip. This allowed polygon rendering capabilities, and was used to render hundreds of polygons on screen at once. With all this attention to 3D graphics however, the actual character graphics took a backseat role. I for one always wanted to see a little more of Fox and his team, other than the 4 portraits and a few between-level pictures. Luckily, now we have more recent StarFox games. We also have sweet fanart for those who still suffer from withdrawal, even after 5 hours of playing as Fox in SSBB.